According to World Air Quality Report 2020 by Swiss organization IQAir, India's capital Delhi is the world's most polluted capital city. Its average annual concentration being PM2.5 in a cubic meter of air at 84.1. The list moves on with Bangladesh's Dhaka, Mongolia's Ulaanbaatar, Afghanistan's Kabul, and Qatar's Doha. Delhi's air quality has improved by 15% compared to that of 2019, said the report.
Another key finding from the report: New Delhi is world's most polluted capital for third straight year https://t.co/tCQGwPYkXg

— IQAir (@IQAir) March 16, 2021
It still ranks as the 10th most polluted city in the world, according to the World Air Quality Report, 2020, released by the Swiss air technology company, IQAir.
In 2020, most of the Indian cities which were monitored, did observe air quality improvements as compared to 2018 while 63% saw improvements over 2019. However, India still continues to feature at the top of the most polluted cities ranking as 22 of the top 30 most polluted cities are form India.
Delhi has topped the list of the most polluted capital cities. It was followed by Dhaka ( Bangladesh) with annual average PM2.5 concentration at 77.1.
Thirteen out of 15 most polluted cities globally were from North India, such as Ghaziabad which was at second spot, followed by Bulandshahr. Nine cities belong to the National Capital Region and eight of them are in Uttar Pradesh. The report adjudged the Chinese city of Hotan as the most polluted in the world in 2020.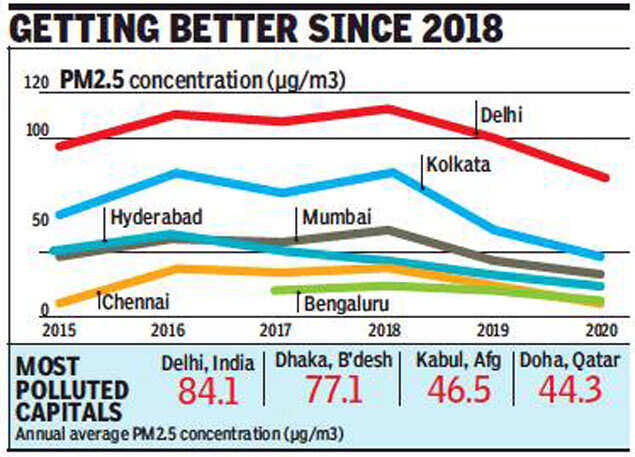 The report stated that India showed an overall improvement in several cities, with 63% reporting direct improvements over 2019 averages. All cities whose pollution levels increased in 2020 still show an overall downward trend from 2018 and earlier.
Giving an Indian context to the global IQAir report, Avinash Chanchal, climate campaigner at Greenpeace India said, "While many cities including Delhi have recorded marginal improvements in air quality due to lockdowns, the health and economic cost of air pollution remains severe. It is pertinent that governments prioritise sustainable and clean energy sources, and the cities need to encourage low-cost, active and carbon-neutral mobility choices such as walking, cycling and accessible public transport."