A huge container ship probably sizing up four football pitches has been stuck in the middle of Egypt's Suez Canal blocking one of the world's busiest trade routes.
Although Egypt has reopened the canal's older channel to divert some traffic until the wedged ship, The Ever Given moves. The blockage has rose the oil prices on international markets.
About 12% of global trade passes through the Suez Canal, which connects the Mediterranean to the Red Sea and provides the shortest sea link between Asia and Europe.
The Ever Given, operated by the shipping company Evergreen, was bound for the port city of Rotterdam in the Netherlands from China and was passing northwards through the canal to the Mediterranean. The 200,000-tonne ship was built in 2018 and operated by Taiwanese transport company Evergreen Marine.
At 400m long and 59m wide, the ship has blocked the path of other vessels and ships which are now trapped in lines in both directions.
Bernhard Schulte Shipmanagement (BSM), the company that manages the container ship has denied earlier reports that the ship had already been partially refloated. Their statement said, "immediate priorities are to safely refloat the vessel and for marine traffic in the Suez Canal to safely resume".  BSM confirmed on Wednesday that all crew were "safe and accounted for", with no reports of injuries.
Eight tug boats are working to refloat the Ever Given, and diggers on the ground have been removing sand from where it is wedged into the side of the canal bank.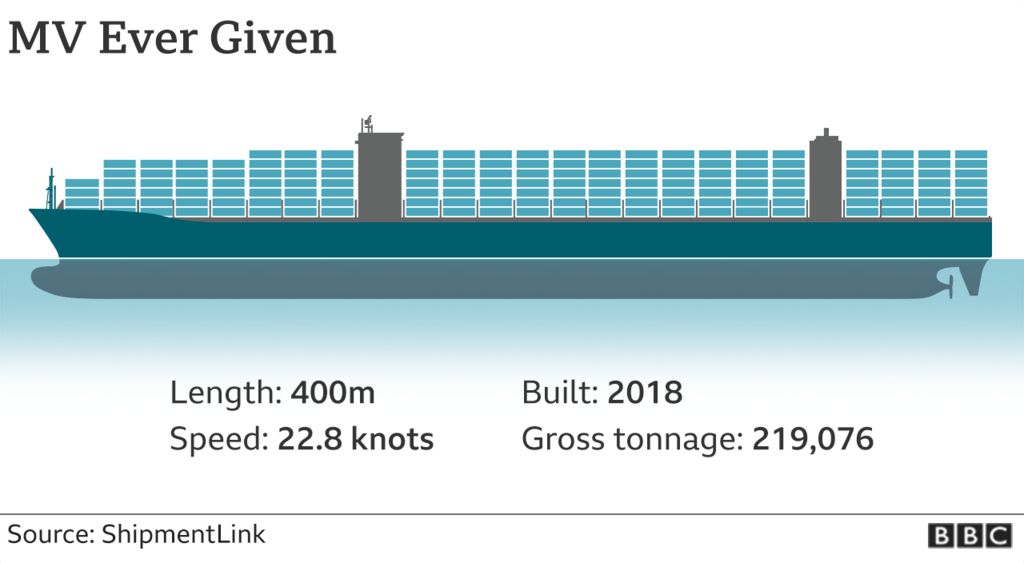 Dr. Sal Mercogliano, a maritime historian based in the US state of North Carolina, told the BBC that incidents such as this were rare, but could have "huge ramifications for global trade".
Calculations suggest that westbound traffic is worth around $5.1 billion a day and eastbound traffic is approximately $4.5 billion per day.
Also Read: "Wasn't an illusion": Viral Picture of the floating ship in the sky tricked everyone: See Netizens Reaction